Health
KC Davis Shares Her Tips – Body Health World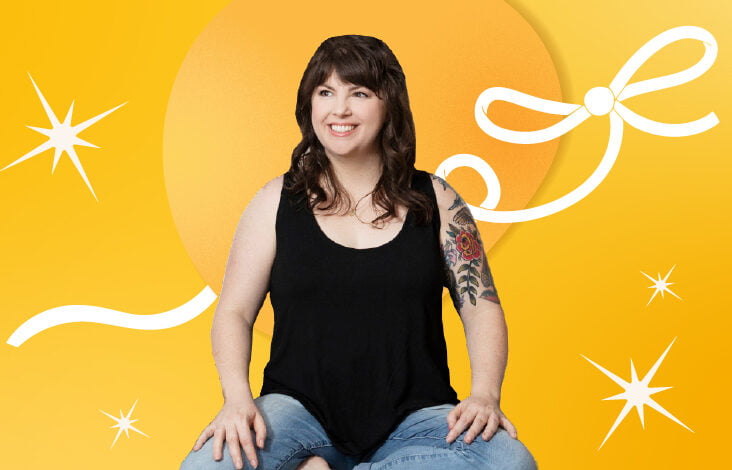 'Tis the season — for magic, stress, or a little bit of both?
When it comes to the holiday season, your answer may vary.
Yet greeting cards, songs, and commercials convey it as the most wonderful time of the year. It's the time when happy families and friend groups come together to make new memories and rekindle old traditions, they imply.
That can happen, of course.
Still, the idea that the holidays are simply magical for everyone is unrealistic and harmful, says KC Davis, therapist, digital creator, "Struggle Care" podcast host, and author of "How to Keep House While Drowning."
"There's a lot of pressure and expectations around the holidays," Davis says. "There's the expectation that it's warm, cozy, and you're seeing family and having magic moments. Not everyone's family dynamics are warm and cozy."
People often add on the pressure to make cards with professional photos, buy gifts, and see everyone in their families — which may include expensive cross-country travel.
In short, it's a lot.
"Here's this holiday season where I have to spend money that I may or may not have and be around people I may or may not like," Davis says. "And then there's this idea that it's going to be a lovely, peaceful, happy time."
A picture-perfect holiday season may not be in the cards, but that doesn't mean it has to be the most stressful time of the year.
You deserve a happy holiday, whatever that looks like to you. Read on to learn ways to set boundaries and gift yourself grace this year.
If the holidays have a slightly undeserved reputation for being so wonderful, how come they've become so stressful?
Davis says a host of factors may give you a case of the Bah-Humbugs.
Money and holiday expenses
Expectations surrounding money can create a lot stress around the holidays.
A small 2021 survey of 500 U.S. adults from healthcare service Sesame concurs, suggesting that shopping for gifts was the biggest stressor of the season.
That stress may be especially heightened this year amid inflation.
A recent MasterCard Spending Pulse prediction estimated U.S. retail sales would grow 7.1 percent in 2022, a smaller jump from 2021's 8.4 percent.
Holiday spending isn't just limited to gifts. There are decorations, professional photos, holiday cards, outfits for said photos and cards, and travel expenses.
Of course, not every family purchases all of these items, but she says many have several of them on their annual lists.
It adds up.
Gender roles
Though anyone can feel holiday stress, Davis says it can be especially strong for women and those outside of binary gender roles.
If you don't conform to one gender, you may find it difficult to navigate the expectations of extended family. The pressure of being expected to act a certain way is a lot to field.
For more traditional families, there may be pressure on female-presenting people to shoulder most of the work.
"The holidays, more than any other time of the year, highlight the emotional labor women do," Davis says.
Davis notes that women are often expected to "make magic happen" in heterosexual relationships and even families at large, especially more traditional families.
"It's not just the cards and presents. It's being responsible for the experience, the experience of people getting gifts, the experience of people coming to the house," Davis says. "It's a lot of stress."
An older 2006 survey from the American Psychological Association indicates Davis could be right. The survey suggested that 44 percent of women were more stressed than usual during the holidays compared to 31 percent of men. Only 27 percent of women felt relaxed during the holidays, while 41 percent of men did.
A more recent 2021 survey from Ellevest suggested that 38 percent of women were concerned about holiday spending.
Family dynamics
Family reunions can be stressful enough. Add in the pressure of gifts, travel, and traditions, and you can have a minefield on your hands.
High divorce rates over the last two decades have left people with more stops to make during the holiday whirl. Divorce rates have fallen from their peak of 4.0 per 1,000 people in 2000 to a provisional rate of 2.3 per 1,000 people in 2020.
Still, Davis notes that couples who split decades ago may have children, who now may have to schedule multiple gatherings.
Loss
A 2021 survey of 2,000 adults in the U.S. suggested that 36 percent of respondents preferred not to celebrate the holidays because of grief or loss.
"It's one of the hardest times of the year because of losses, whether that loss is the death of a family member, the ending of a marriage, or someone got remarried and is creating a new life," Davis says.
These losses mean there may be an empty seat at the table or traditions have to be carried on in a loved one's absence.
"It changes the dynamic," Davis says. "That all comes to bear under the microscope of the holidays."
Feelings of failure
If the season doesn't feel like a Hollywood-scripted fairytale, it can trigger disappointment post-holidays.
A National Alliance on Mental Illness (NAMI) survey from 2015 indicated that 64 percent of people experience post-holiday blues. There were many reasons highlighted, including extra stress and unrealistic expectations.
"They wish they could have the Norman Rockwell Christmas," Davis says, referring to the famed illustrator who portrayed the ideal American holiday of the early-to-mid 1900s.
Despite the images and movies, life and family and friend dynamics won't suddenly change because the calendar flipped to late November.
"If they were stressful in June, they're going to be stressful in December," Davis says.
Keeping that in mind, it's essential to establish realistic expectations and create boundaries so the holiday hustle feels less hectic.
Center yourself
The old cliche goes that it's better to give than to receive, but Davis says it's perfectly acceptable to put yourself first during the holidays.
"Ask yourself, 'What do I need so I don't need a vacation from my vacation?' and 'If nobody else mattered, what would I do?'" Davis says. "People feel like they don't have the freedom to ask themselves [that]."
Prioritize
Once you've differentiated between what you've enjoyed and what was stressful, it's time to prioritize what's important. Enlisting a partner or an objective friend can help you decide what makes the cut.
Davis recently did this exercise with her husband. They went through a typical holiday season and asked one another if they really cared about items like holiday cards, decorations, and fancy wrapping paper.
"There were a lot of things I was doing because I assumed I had to," Davis says.
Tasks and activities neither found important went toward the bottom of their priority list. In some cases, if it was important to someone else, it remained on their itinerary. They nixed others, allowing them to enjoy aspects of the season they truly looked forward to each year.
Don't compare
You may see an old high school friend at a different social event every night of December.
Your sister may be able to see your mom, dad, and her spouse's family all in one day on Christmas.
You may only be able to handle a work party and one family gathering. All are valid.
"You have a different deck of cards than everybody," Davis says. "Your sister has a different body, budget, home…maybe she loves a whirlwind holiday season. If you don't have the time, emotional fortitude, or money, [that's OK]."
The holidays aren't just about giving joy to others. You matter too.
"It's really important to make sure some of that time, energy, and money is going toward your holiday season," Davis says.
Communicate
Once you've decided what's in, what's out, and what's being amended, it's essential to let people know.
"A lot of it is just communicating your limits for time, energy, and emotional capacity ahead of time, and communicating it directly and respectfully," Davis says.
For example, Davis says you might tell a family member, "I'm on a budget this year." Then, share what you can spend and say, "I invite you to do the same."
If the issue is paring down your schedule on a particular day, Davis suggests saying, "We decided this year that our kids need the stability of Christmas morning at home, so we are going to do the visiting the days before and after."
You can make plans to not make plans and communicate as respectfully as possible.
You may still get pressure to overstep your boundaries — whether it's from a family member upset about your decisions or a spontaneous invitation. Davis shared tips on how to protect yourself and when to consider flexibility.
Prepare for polite pushback
A parent may be taken aback if you've decided to spend the holidays with a new partner's family after years of spending it with them. Their first reaction may be one of hurt or concern they won't see you.
"If my mother is asking me information-seeking questions, I don't want to just say, 'This is what we're doing, and you have to respect it,'" Davis says.
Instead, she suggests anticipating these questions and having an answer at the ready.
Try, "This is what we decided, but we'd love to see you. How about [on this day or this day]."
Protect your peace during tougher conversations
Ideally, your family and friends can respect your boundaries, even if they're disappointed. Still, some dynamics are more challenging.
"I'm going to allow people to respectfully misunderstand me [until] I give a reasonable explanation, 'We really want to see you, and this is when we plan to see you,'" Davis says.
But Davis says she draws a line after that conversation.
"It's not my job to convince someone to agree with my boundary," she says. "If I continue to get that challenging pushback, I'm just going to say, 'That's not my intention, and I'm so sorry you're experiencing it that way.'"
You don't have to state your case over and over, she says.
Dealing with spontaneity and considering flexibility
After your careful planning, a surprise may come up. Perhaps your friend is in town, and you haven't seen her in years.
Sometimes people worry too much about sticking to rigid boundaries, such as only going out once every two weeks during the holiday season.
"All good boundaries are flexible at times," Davis says.
Take personal inventory and ask yourself if it will bring you joy. If it will, go. If not, keep your regrets short but sweet.
"For most people, a short message is enough," Davis says. "It can say, 'I would love to see you. Unfortunately, this week is so crazy. I hope to catch you some other time you're in town,'"
Even if you made a priority list, checked it twice, and thought you were on the way to a nice holiday season, stress can still happen.
Perhaps family dynamics were more complicated than expected, or tempers flared at a party. Maybe you simply feel more tired than you thought you would. It's OK to re-evaluate.
Having coping mechanisms in place can also help. Davis shares her favorites below.
Exercise self-compassion
If you're disappointed that your holiday season is not as stress-free as you wanted, that's OK. It's important not to beat yourself up about it.
"Take the pressure off of yourself," Davis says. "Sometimes, families are stressful. Give yourself some slack."
Be honest with yourself
Instead of masking your stress and falling into the trap of forcing a magical holiday, get real with yourself.
"Sometimes it's important to step back and admit, 'This is hard. This is stressful,'" Davis says.
By being honest with yourself, you can re-calibrate how you're spending your time, and communicate authentically but respectfully with others.
Re-evaluate — and yes, cancel — plans
Once you've admitted that you're stressed to yourself, it's time to think about the best course to take.
"Be really clear about what outside expectations and what are things that matter," Davis says.
Journalling or speaking with a trusted friend or partner can help. If you have to change your RSVP to a party to protect your mental health, that's OK.
Ask, "'How can I balance my needs and others' expectations?'" Davis says. "There's no pressure to get it right. It's OK if someone is a little peeved."
Take a break
If the family gathering you decided to attend becomes tense, Davis suggests stepping away and collecting yourself.
"In a tense family moment, you can almost always get out of it by going to get some air," Davis says.
One of her favorite outs is noticing a food the party seems to be missing and excusing herself to the grocery store. You can also go to the bathroom and take a breath or phone a friend.
Know your role
Sometimes, Davis says people try to be peacemakers in tense family situations. For example, an adult child may try to help their divorced parents to get along. That can only add to the mental load during a stressful time.
"Recognize, 'It's not my job to mediate their disagreement,'" Davis advises.
Speaking with an objective third-party can help you sort through your feelings during the holidays—or any time of the year. Mental health hotlines and directories can help you find the help you need, including:
You can also get a referral for a therapist from:
friends and family
church and community groups
hospitals
your primary care physician or another specialist you see
insurance
Healthline's FindCare
The holidays are supposed to be a joyous time, but that's not always the case.
Holiday stress is normal, and many factors contribute, including money, family dynamics, and the pressure to feel happy and stress-free in the first place.
It's essential to think about what will make you happy for the holidays — you can't show up for others if you don't take care of yourself.
Ready for a calm and stress-free holiday? Check out Healthline's Season of Self-Care, your go-to destination for the latest must-have health and wellness gifts for your loved ones – and you!
---